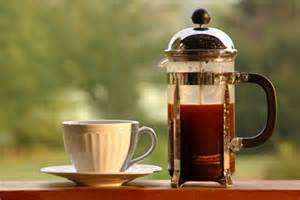 I really enjoy coffee, but not the acidifying effects on the body. I have found a way to make a healthier version that is quite yummy! 
I mix organic coffee 1:1 with Teeccino, an alkalizing grain beverage. Teeccino comes in many flavors and you can usually find it at the health food store, or even at some higher-end grocery stores. I can find it at Reasors in my area of OK. 
I really enjoy the raw heavy cream from my local raw dairy, but am also wanting to decrease my dairy consumption. So, I have been using organic, full-fat coconut milk.
I make the coffee in either a normal coffee pot or a French press. Here's the key to the yumminess: heat a little of the coconut milk separately in a sauce pan. Pour it in the French press with the coffee. Pump the French press handle to make the coconut milk foamy. It's that simple! The foam, for some reason, makes it extra special and enjoyable.
Here's to a healthier morning!